Remote Support
If you are outside the HIL building, D-ARCH employees have the possibility to get remote support during the office hours.
Download
Please click on the remote desktop client (Mac or Windows) to download and install it (Note: under macOS you must allow the download).

How to grant access to TeamViewer on your Mac
macOS 10.14.x Mojave and macOS 10.15.x Catalina or higher
Remote Support
If you start the application, you get an random user ID and a random password. Call your D-ARCH IT-support and tell them your ID and password. Your D-ARCH IT-support will now have access to your computer.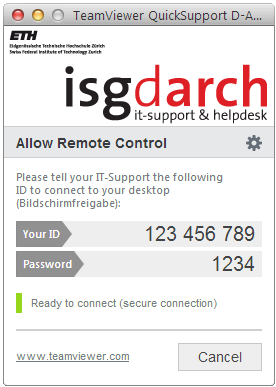 Security and privacy
Access to your computer is only possible, if the software is running and your supporter knows the random password.