Meeting Room ONA G 28:
The availability of the meeting rooms can checked by web-calendar: https://go.ethz.ch/onag28
A reservation is made by creating a calendar event (at your calendar) and invite the room as a participant (attendee) or location. The reservation will be confirmed automatically if available.
Room email:   onag28@ethz.ch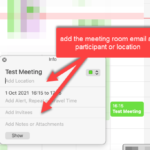 On-site support:
The IT-Support Group of the D-ARCH will offer you a walk-in in support every second Tuesday afternoon from 14:00 – 16:45, see below.
Your IT-Team D-ARCH