From the spring semester 2020, new HP printers will be available to students on the entire ETH campus. Please follow our installation instructions so that you can use all functions including stapling and punching with macOS.
---
A. Install printer driver
Download the printer driver package here.
To install the driver please follow steps 1 to 13.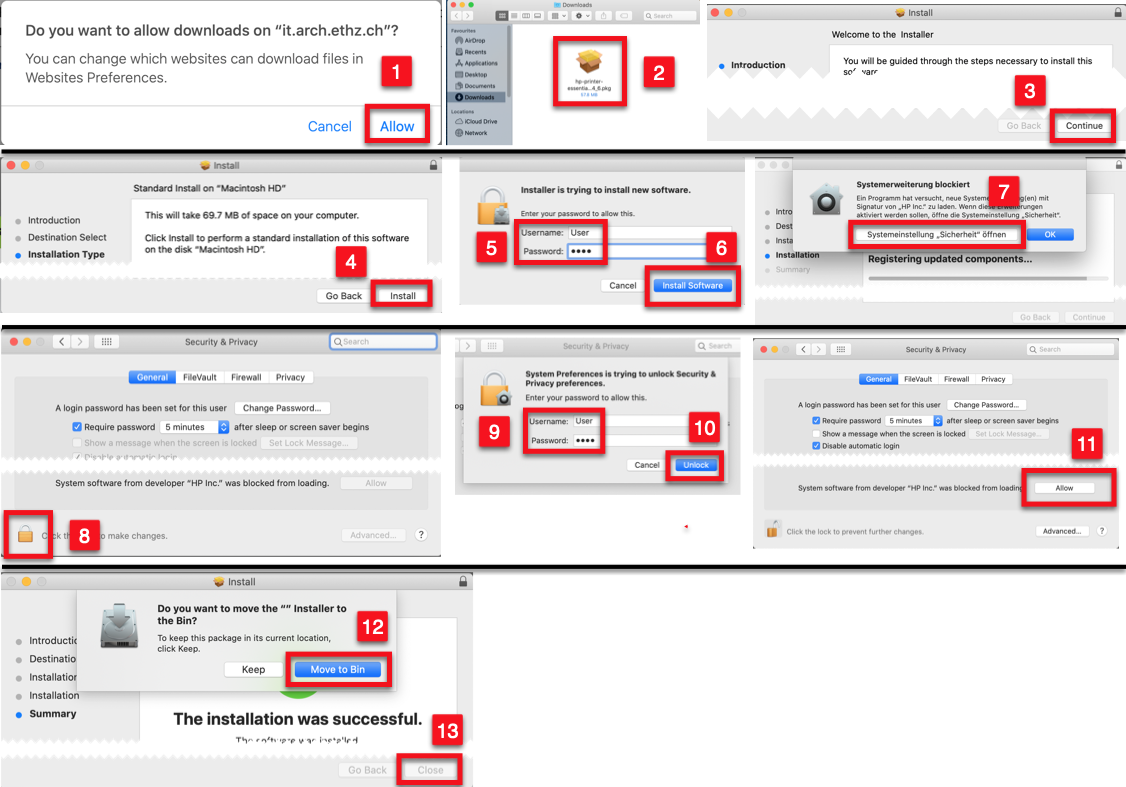 ---
B. Add printer
1. Open «System Preferences…» [1]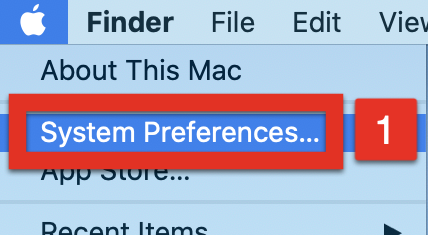 2. Choose «Printers & Scanners» [1].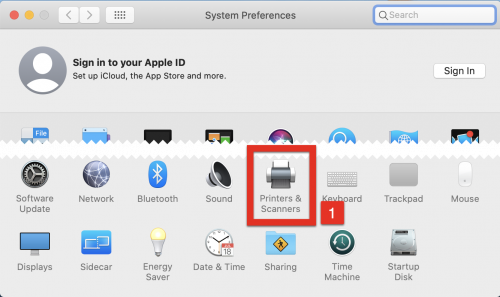 3. Click on the «+» sign [1].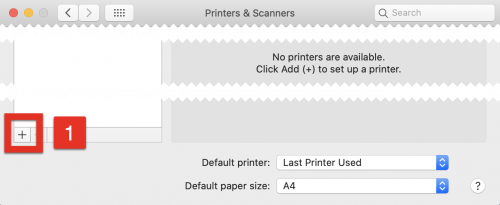 3. Right click (or control click) in the menu bar [1] and select «Customise Toolbar…» [2].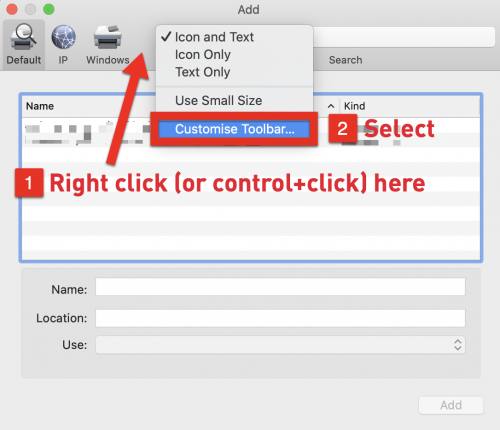 4. Drag and drop the gear symbol (Advanced) to the menu bar [1] and click «Done» [2].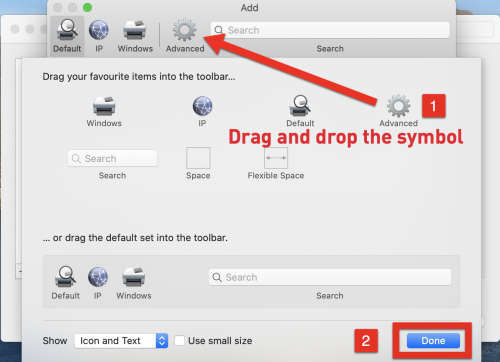 5.
[1] Click on «Advanced».
[2] Choose as Type «Windows printer via spoolss».
[3] Type as URL: smb://piastud01.d.ethz.ch/card-stud
[4] Set as name: Card Stud HP.
Use: «Choose a driver…» and «Select software…»
[5] Search for e87.
[6] Choose the driver «HP Color MFP E87640-50-60».
[7] Click «OK».
[8] At the end click on «Add».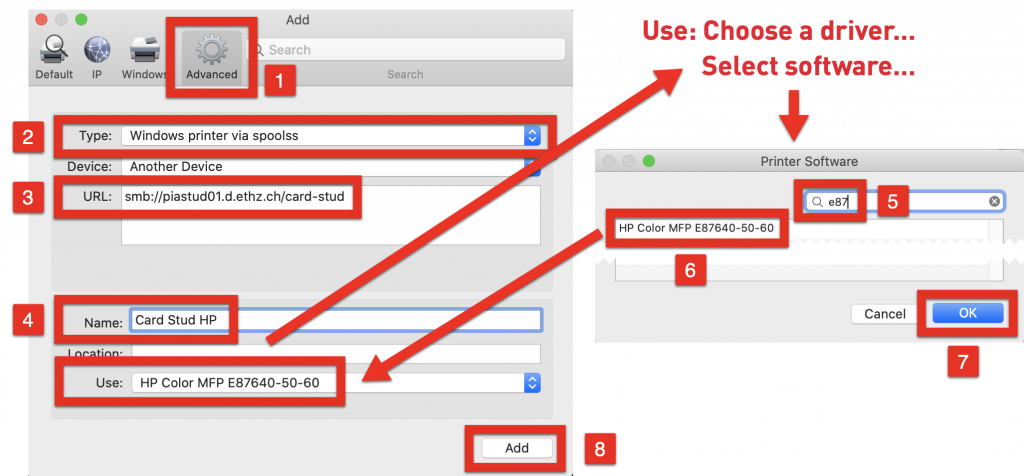 6. Under«Options» set up the trays and units according to the following screenshot [1]. Then click «OK».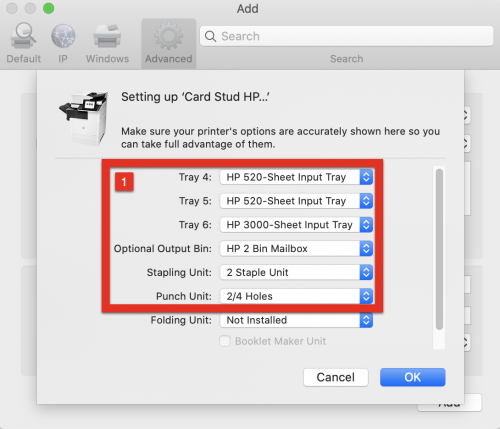 ---
C. Printing
1. If you want to print (Command+P), choose as printer «Card Stud HP» [1] and click «Print» [2].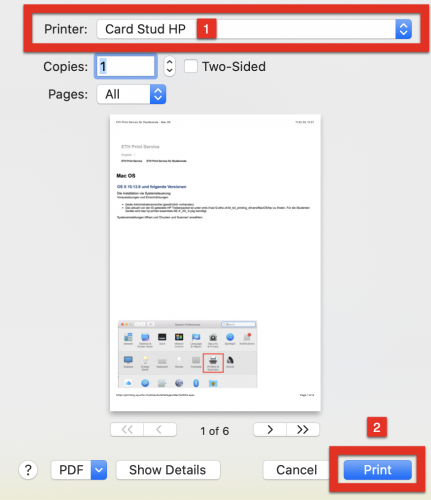 2. Then type your ETH username [1] and your ETH password [2] and store your password in the keychain [3]. Then click «OK» [4].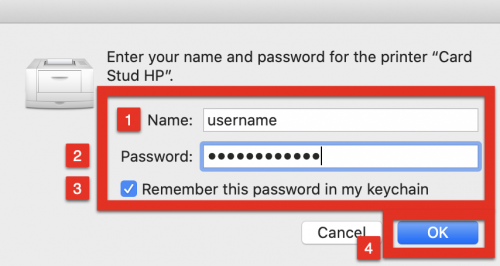 ---
D. Further information
A quick guide on how to operate the printers on site can be found here.
Further information about the ETH Print Service can be found here.