General information
ISG D-ARCH is providing central fileservers for all students and staff members of the departement of architecture.
Shares (or networkdrives) are divided in 2 parts. First we have the personal share who is only for yourself. Secondly we have the group shares. Access authorization for the group shares are administrated by the responsible IT person from your unit or by the staff of the ISG.
All data of the servers will be safed daily on tapes. If you need backup of your data please consult the staff of the ISG.
---
Important!
macOS X users connect like this:
smb://namechair-server.ethz.ch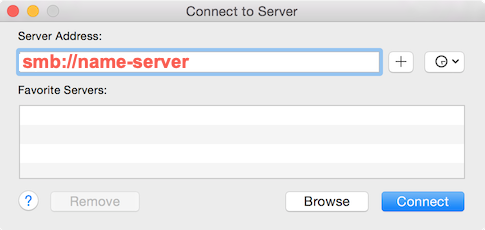 Finder –>  Go to –>  Connect to Server…
Windows users connect like this:

namechair-server.ethz.ch

Tools –>  Map network drive
---
Find following a list of server names of the different shares:
Personal share staff members and students D-ARCH

home-a.ethz.ch (if your ETH-shortname begins with an «a»)
home-b.ethz.ch (if your ETH-shortname begins with a «b»)
home-c.ethz.ch (if your ETH-shortname begins with a «c»)
etc.

E.g.

The staff member with the ETH-shortname jdoe connects to the server

home-j.ethz.ch




Group share staff members and students D-ARCH

E.g.

Staff members and students of the professorship Kerez should connect to the server

kerez-server.ethz.ch




Archive shares D-ARCH




Scratch shares D-ARCH




Software download shares IDES




Mass import image databases D-ARCH and GTA

(FTP and SFTP only)
Support
In case of problems concerning our D-ARCH server (File, web, database, backup, DNS, etc.) please contect the following persons:
D-ARCH Server
Systemadministrator
Thomas Gemperli

HIL C 38.2

Phone: +41 44 633 29 48
gemperli@arch.ethz.ch
D-ARCH Server
Stv. Systemadministrator
Richard Hajfler
HIL C 38.3
Phone: +41 44 633 43 50
hajfler@arch.ethz.ch
Please send general requests concerning server via E-Mail to servicedesk@arch.ethz.ch