Please note the following changes are necessary to communicate an event and book a space. This also hold trues for NCCR events and space bookings! Priority is given to ITA members with regard to bookings of open spaces and meeting rooms.
ITA Event Calendar
(for events etc. and booking Open Spaces)
Critics, presentations and tours need to be coordinated with the ITA administration office by sending a calendar invitation to itaevent@ethz.ch. This "invitation" must contain the following information:
• The event name
• The number of participants
• The date
• The time slot
• Space number (if needed)
After acceptance from the ITA administration office, the entry will be published in the ITA Event Calendar and the required Open Spaces will be booked automatically. 
ITA Event Calendar – web view link
ITA Event Calendar – subscribe link (read only .ics)
Keep in mind: Additionally or special furniture should be ordered through Meldeportal Immobilien Services: http://gmis.ethz.ch/
Meeting Room Reservation (HIB):
The availability of the meeting rooms can be either checked by web-calendar or through subscribing to the calendar itself.

Web view (read only):
Subscribe to (read only):
Reservation:
Create a calendar event and invite the room as attendee. The reservation will be confirmed automatically if available.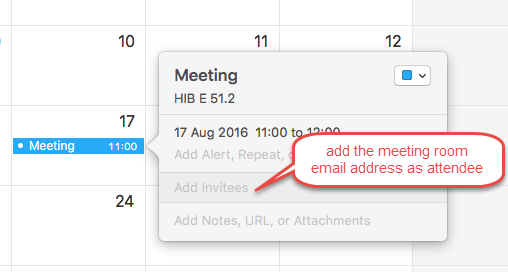 Further informations: