Introduction:
The department provides the collaborative whiteboard solution of the company Conceptboard to all interested D-ARCH members for free use. The web-based application is perfectly suited for the creation of interactive work tables (whiteboard) and/or meetings of work/projects in groups. All common file formats (PDF, JPG, PNG etc.) as well as Illustrator, Photoshop or Office documents are supported as display/upload.
The work tables or whiteboards can be exported as PDF for documentation purposes. The objects/documents used in the board can be downloaded for backup (data security).
The usage period is currently limited to one year. In the medium term, an ETH internal solution is being planned (on-premises).
Registration:
In order to use the PRO functionality in the D-ARCH own conceptboard instance (Pro Accounts), registration and activation of your ETH e-mail address is necessary. Please fill out the following form (you will receive an email after activation):
https://it.arch.ethz.ch/access-request-conceptboard/
Please do not create a separate account via the company's main page (these accounts cannot be migrated to the D-ARCH instance).
Activation:
As soon as the activation is done by us (during office hours in about 2-3 hours), you will receive an e-mail from Conceptboard (invitation). Follow the link and complete the registration. Attention: Do not use the ETH password, choose an independent password. Confirm your membership in the ethz.conceptboard.com team.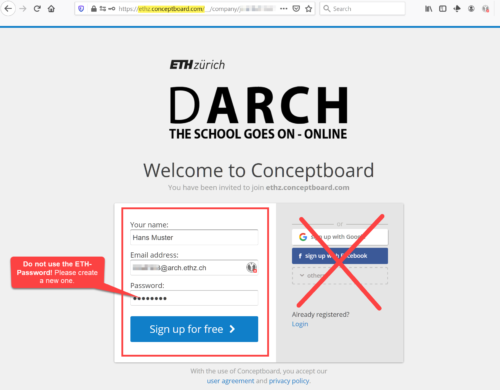 Configure your profile (1+2) and switch off the option "Mail from Conceptboard" (3), see screenshot. Do not use the "Connected Services".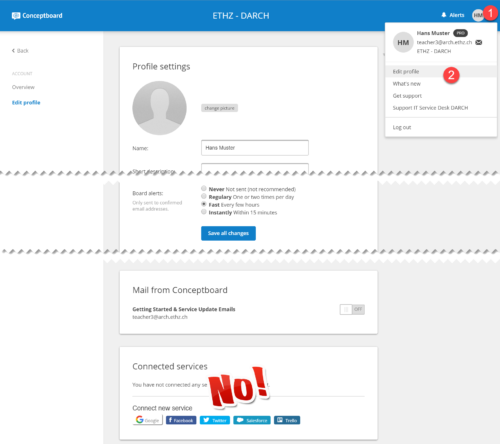 Teaching/Meeting (staff, assistants):
After registering, create a virtual work table (1) (Board) at https://ethz.conceptboard.com and share (2) it with the students using the share function with link (3).
Students now have the possibility to place their work on the board as guests and without registration (account). Please do not publish the link on public and/or freely accessible websites/channels! When the work on the board is finished, set the sharing to "Reader".
Optional: For closed papers, participants should be invited via the "Invite users" function in the home area (1) (use their ETH e-mail address)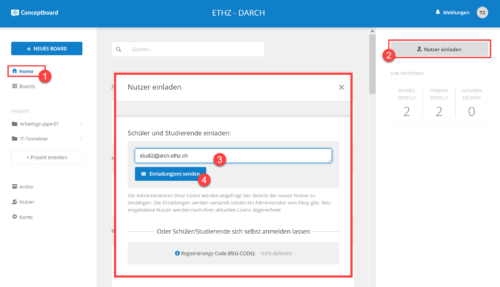 Then authorize the participants on the corresponding board (1,2 + 4). The activation of the invited (students) is done by the IT Services Group (ISG), i.e. the participants receive an invitation as described under "Activation".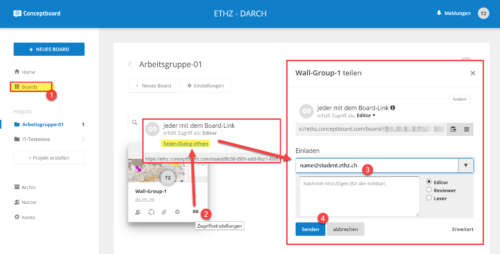 Group work (students):
The platform is open to students for group work. A PRO Account can be applied for with an ETH e-mail address as described under "Activation". Unfortunately, the function "Conference Call" is not available. Boards can be created and shared after registration at https://ethz.conceptboard.com. Please do not share board links in public websites or other freely accessible channels. Registered assistants can be invited to join a board for shared interaction via their e-mail address.
Hints:
Further information can be obtained directly from the producers website:
https://conceptboard.com/blog/
https://help.conceptboard.com/hc/en-us/categories/200108281-Working-with-Conceptboard#board-basics